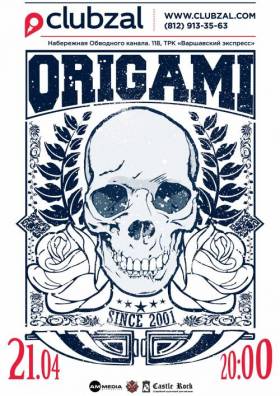 ORIGAMI. 15 лет группе!
Начало - 20:00. Входной – 600 р. / VIP – 1000 р. / super VIP – 1200 р.
Оригами - это чистая, пронизывающая всех и каждого энергия, как в музыке, так и в живых шоу. В части концертов это постоянное движение, качественная, красивая подача, позитив и работа с публикой, которая в течение всего выступления находится на одной волне с группой.
21 апреля, группа презентует свой новый сингл в грандиозном шоу большого сольного концерта в клубе - "Зал ожидания"!
В апреле этого года - ровно 15 лет с 1го концерта группы, где участники решили именоваться ОРИГАМИ! Всех ждут лучшие хиты со всех альбомов группы и незабываемое шоу!
Страница vkontakte
https://vk.com/origami_piter
Отзывы
hoowei
14.04.2017 07:00
Duramantan enables various rolex replica uk to become utilized, however just one colour for each every whole area. Colormantan is perfect for the greater innovative personalization as well as enables a lot more distinctive masterpieces. As the instance pictures associated with rolex replica sale using the Colormantan remedy has a tendency to display squared regions of rolex replica there isn`t any specific geometric or even form limitations, and also the replica watches sale may choose pretty much exactly what they need, in the event that all of us realize Rau-Tech properly. Why `m We therefore fired up through this particular. Nicely, for that greatest rolex replica films happen to be limited by just a couple darkish colours that are mainly dark as well as grey. Should you desired the steel view covered along with an additional colour, it might frequently have to be rolex replica light weight aluminum, the industry instead gentle steel and never because long rolex replica sale because metal.
0
цитировать
20170729lanhaichao
29.07.2017 06:45
20170804yuanyuan
04.08.2017 18:39
0
цитировать
CC
09.08.2017 09:36
0
цитировать