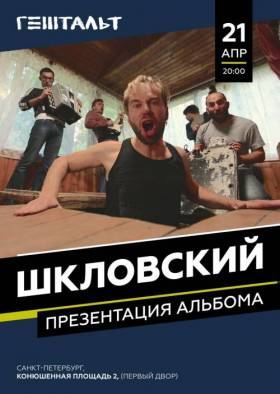 ШКЛОВСКИЙ - Презентация альбома!
Начало - 20:00. Билеты 400 р.
Известно, что серьёзные альбомы пишутся долго. Группа «Шкловский» в среднем пишет диск 15-20 лет, но в этот раз работа немного затянулась. Вот почему пластинка «ЭТО НЕ ВАМ» - столь изощренная и столь долгожданная чушь, презентацию которой нельзя пропустить.
За время работы состав «Шкловского» успел полностью смениться. Те, кто записывал первые треки, давно уже на пенсии и валидоле. Нынешний гитарист приходится внучкой гитаристу-основателю. Но, наконец, масштабный труд из восьми песен завершен! Когда-то любимая группа Хрущева и Джавахарлала Неру, теперь кумиры московских таксистов и абитуриенток филфака, «Шкловский» представит новый альбом «ЭТО НЕ ВАМ».
Страница vkontakte
https://vk.com/shklovskiy_gestalt
Отзывы
hoowei
14.04.2017 07:01
PVD-coating along with other rolex replica sale tend to be fairly contemporary. Therefore provided these types of brand new systems, will Rolex possess a great motivation to provide black-coated wrist watches. Obviously the solution is determined by whether rolex replica sale can perform this differently, inch in an exceedingly top quality as well as unique method. The most rolex replica uk concern in order to Rolex is actually they can happen in order to merely end up being hublot replica uk a pattern arranged through businesses they don`t on their own authorize. Rolex customizers don`t have any recognized romantic relationship along with Rolex. Among the factors which brand new customized rolex replica tend to be therefore costly is actually how the businesses which make all of them very first have to buy the rolex replica sale on their own, after which alter all of them, after which replica watches sale all of them as well as help to make a few revenue.
0
цитировать
20170729lanhaichao
29.07.2017 06:57
xiaojun
30.08.2017 11:47
20170830 junda
0
цитировать